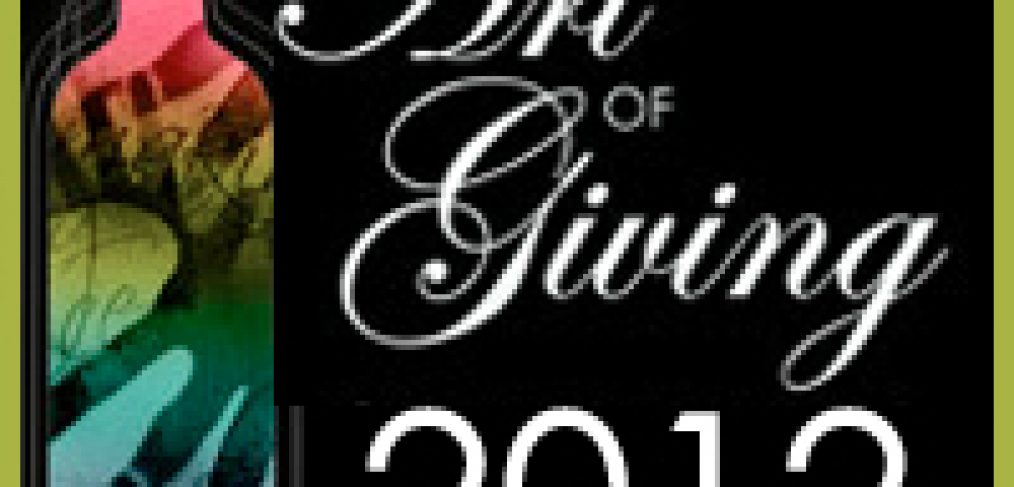 GREAT ART, GREAT WINE, GREAT CAUSE!
The Art Of Giving 2012: Philadelphia
About the Project
Inspiration: The Love of Place. Regardless of culture we all draw inspiration from the places that surround us, and carry those places with us throughout our lives. We are seeking a group of artists from the Philadelphia area to create artwork centered on this theme. The artwork will be featured online followed by a Artist Reception in Old City Philadelphia. Wine labels will be created from each work of art. The bottles will be available online for a donation to Philabundance, the region's largest food bank and hunger relief organization.
Dates:
Jul 15th – End call for entries (50 artists)
Sept 17th – Artwork due date (DIGITAL ONLY)
Oct 1st-Oct 7th- ONLINE EXHIBITION & FUNDRAISER
Pre-orders taken for wine for one week only. Note there is a limited amount of wine so first come, first serve!
Nov 11th – Artist Reception in Old City Philadelphia
NOTE!!! No original artwork will be displayed at the reception, only digital artwork slideshows, and lots of yummy drinks and food. All wine to be pre-ordered online and only pick-ups will be permitted at the reception.
---
Artwork Details:
SIZE: VERTICAL FORMATS ONLY!!! Your original artwork must be 8 inches wide x 14 inches high. Only artwork at these dimensions will be accepted. Delivery is a HIGH RES DIGITAL VERSION ONLY (300 dpi), to be sent via email (preferred). If you do not have a quality scanner then please have it scanned at a service center (kinkos, staples, etc). No "photographs" of the artwork unless they are professional photographs of a 3-dimensional piece.
NOTE: be sure to hold onto your original artwork, we'll also offer the option for you to sell your original artwork online for interested buyers, you'll keep the proceeds! We may also have an opportunity to display the original artwork in another gallery in the near future.
THEME: Inspiration: The Love Of Place
MEDIUM: You may work in any medium, however ARTWORK CAN NOT be created on anything thicker than 1/16″  (in the case there is a formal exhibition in the near future). If your original artwork is 3-dimensional, please submit a photograph (see above)
PHOTO/BIO: A photo and brief artist bio is requested for our brochure (online form to be provided)
ARTIST FEE: We request a donation of $20 per artist to help cover exhibition and promotional costs (payment details to be provided).
Artwork Due Date: September 17, 2012
---
ARTIST SIGN UP IS NOW CLOSED
Please be sure to come back and check out our artwork!
---
FAQs!
Who owns the rights?
You own the right to your artwork. However, by agreeing to participate in this project you agree to allow (no name) Art Group, the right to reproduce your artwork (whether via web or in print) in any (no name) Art Group  related promotions.
Can I sell my artwork?
Yes! Your artwork is yours, so you can sell it for whatever price you'd like. Keep in mind the (no name) Art Group keeps a 40% commission. You are also free to sell your work and donate the proceeds to our beneficiary, Philabundance. When donating your proceeds, (no name) Art Group will not take a commission. More details will be provided closer to the exhibition,
What kind of wine will my label be on?
Any kind! Note that there will be a variety of different wines, so it's recommended you don't tailor your artwork to a particular kind or type of grape.
Can I incorporate text?
Sure, if you like and if it's part of the artwork. Note that the label template will already include your name at the bottom and the project date (see visual).
How will guests purchase the wine?
Pre-orders will be taken for wine one week only (Oct 1st-7th).  Note there is a limited amount of wine so first come, first serve! NOTE: All wine to be pre-ordered and only pick-ups will be permitted at the reception (Nov 6th)
How many artists are participating?
There is an estimated 50 artists participating for this project in Philadelphia, however we have branched out! Please see The Art Of Giving 2012: Kansas City
Where does the wine come from?
The wine will be provided by Chaddsford Winery. Chaddsford Winery, located in the beautiful Brandywine Valley to the southwest of Philadelphia, is Pennsylvania's largest and best known winery. More: www.chaddsford.com