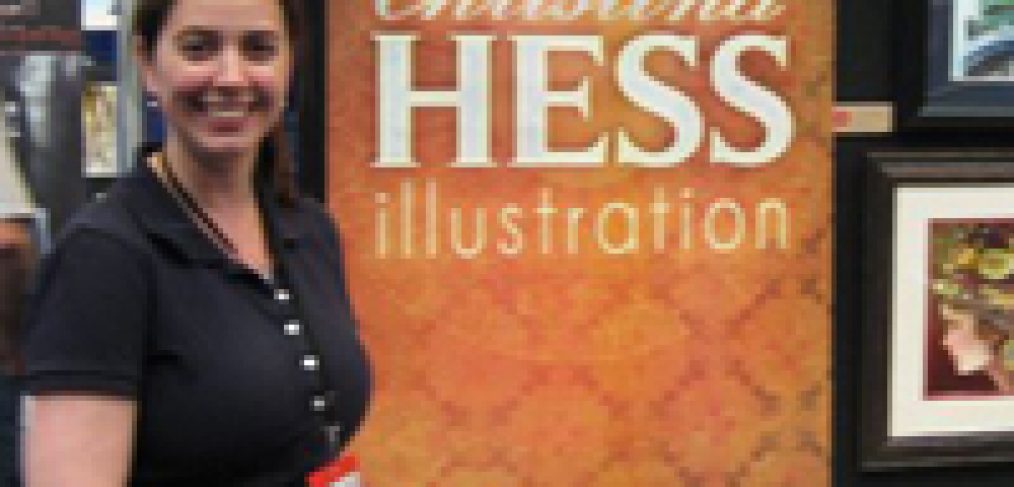 Christina Hess Represents!
Last year, (no name) Art Group pulled together funds to financially assist a member in their creative dreams. The top prize was awarded to Christina Hess who requested funds for travel to Spectrum Live in Kansas City. Below is Christina's blog about her experience, a huge thank you to everyone who gave her a hand!
2011 (no name) Art Group Grant Contest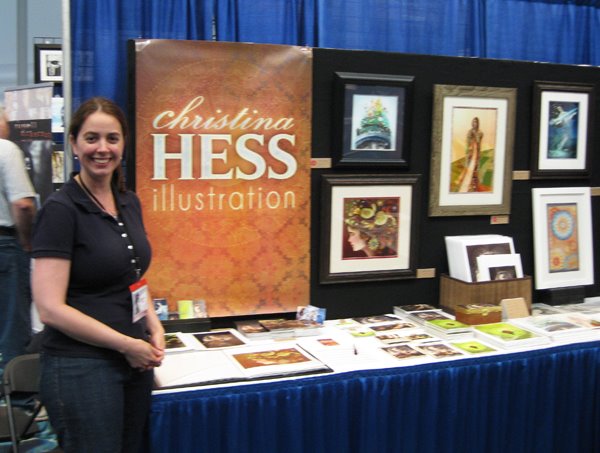 Christina's Blog
"On May 16 I left for Spectrum Live, an illustration convention focusing on science fiction and fantasy art.  It was a long 20 hour drive but Dominick Saponaro and I made it to Kansas City MO, ready for the show.  With the help of the (no name) Art Group grant I was able to travel and prepare accordingly.  It helped me create numerous items to showcase and sell. 
Some of these items were hand bound journals, hand made jewelry boxes, packaged prints of different sizes, necklace pendants and earrings.  I had framed prints to showcase my illustration, post cards, bookmarks, my hardback portfolio as well as small oil paintings for sale.  It was the first convention I took part in so it was a new experience.  
The preparation took much more time than I anticipated.  I predominately illustrate digitally so working with my hands was very satisfying.  My favorite project to work on was the jewelry boxes.  I featured my grant image on one of the boxes, which sold.  I bought unfinished jewelry boxes and adhered my images to them.  Staining, Polying, gluing organic paper and gold leaf was only the beginning.  
I took this collage technique into my final stage of the grant piece.  My "Protect" piece created for (no name) was printed and adhered to a 12″x12″ raised panel.  I then used metallic paint, oil paint, varnish and sheer ribbon for collage.  I then framed it in a floater and treated the edges of both the frame and the painting with a metallic modeling rub.  In low light the gold leaf shines beautifully!  It was so much fun to do and I got a lot of positive feedback on the technique.  My only regret is that I didn't work bigger! Click here to read more about the technique.
Having funding from (no name) Art Group made it possible!  I could prepare and create many more items than I originally anticipated.  I also was able to receive funds from Moore College, where I teach part time, to support some additional expenses.  My goal was to experience the convention scene and connect with new faces as well as reconnect with others in the illustration industry.  I was so fortunate to be located near some fantastic artists who I had a chance to befriend.  Armand Baltazar and Iain McCaig were among some of the talent.  I was humbled and so fortunate to meet them.  It was well worth the time and I will be doing this again next year with some modifications.  My personal and professional goal was met and I came out happy and more experienced!
Some of these items are for sale on my etsy store!
Feel free to stop by and visit!  *****10% off for reading this!  Just enter the code noname*****
Now, what do I want to create for the wine label…"
---


Christina Hess has been a valuable member of (no name) Art Group since 2007. We wish her luck in her future endeavors and ask that you please join us in supporting Christina in her latest KICKSTARTER PROJECT- Animals In History! Check out the FANTASTIC video made by Christina below reminding us how wonderful it feels when we embrace our imagination!
25% of the proceeds are donated to Big Cat Rescue.
---
About Christina Hess:
"I work as an illustrator and designer in the publishing industry. I like to draw ornate things. I like to paint stories with ornate things. I like the word "intricate" which I was chastised for liking many moons ago at yearbook camp. That's right….yearbook camp.
In addition to my clientele I have been published in several annuals and competitions such as (no name) art group grant, Phillustration 4, Spectrum 18, Spectrum 19 and Exotique 7, Silver Award for Self Promo category in the Society of Illustrators 50 LA, Expose 10 and 3×3 Magazine.
In my free time I cook, eat and talk to animals including my muse, Roscoe the basset hound."
---
Christina's previous (no name) Art Group Artwork includes 2007 Memory Portraits, 2010 and 2011 The Art Of Giving, 2011 Memory Portrait (not shown for child privacy reasons)